Slide G3 Terminal Vancouver's loop tracks have redefined what's possible at the Port of Vancouver, loading grain faster than anyone before.
G3 Terminal Vancouver Has Transformed Canada's Grain Supply Chain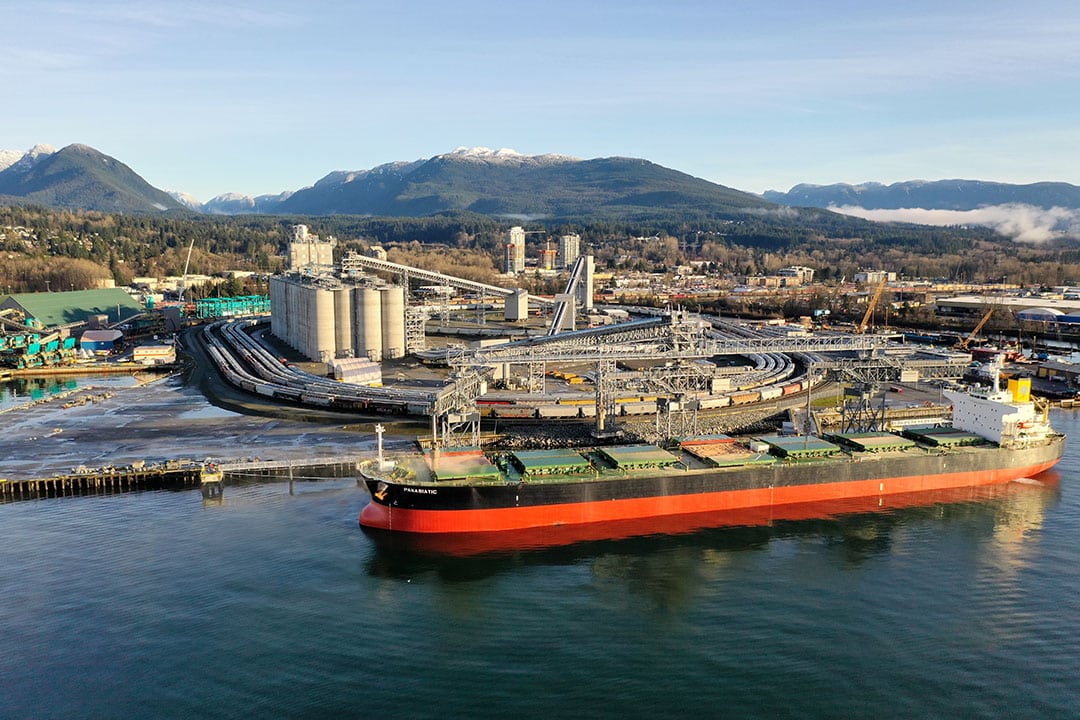 G3 Terminal Vancouver
G3 recently celebrated an operational achievement. One of its Alberta elevators loaded two 150-car trains with about 15,000 tonnes of grain for hauling to G3 Terminal Vancouver in less than a week — and it was the same train both times.
In other words, the 2500-metre-long train loaded, traveled the 2000 km from prairie to port and back and loaded again in just a few days. It's a remarkably quick turnaround not characteristic of Canada's often sluggish grain supply chain.
"The time it takes for agricultural commodities to get to port has been reduced dramatically within our system," says G3 Terminal Vancouver General Manager Nick Willcox. "The Canadian logistics pipeline has benefited immensely from G3's investment in loop-track-equipped country and port facilities."
Since the Winnipeg-based company's inception in 2015, G3's vision has been building a smarter path from farmers' fields to global markets based on a network of high-efficiency grain handling facilities equipped with loop tracks. This modern design allows trains to quickly load and unload in continuous motion as they move around the tracks, keeping grain moving to market. It gets done in hours instead of days.
G3 Terminal Vancouver, the first new grain terminal at the Port of Vancouver in decades, is the crown jewel of this high-tech system. It opened in 2020 and has been setting new standards for the industry ever since.
"In our first full year of operation, G3 Terminal Vancouver redefined what is possible for unloading trains and loading vessels in the Port of Vancouver," says Willcox.
That includes setting new port records for the most train cars unloaded in 24 hours and the most tonnes of grain loaded onto a ship in 24 hours.
"G3 Terminal Vancouver has one of the most advanced agricultural ship loading systems in North America. We have the highest ship loading rates in the Port of Vancouver, loading much faster than our competitors," says Willcox.
G3 Terminal Vancouver is also a leader in cleaner, greener grain handling.
"We have employed the latest dust suppression systems, achieving best in class emission levels. G3 Terminal Vancouver is uniquely positioned to offer the highest loading rates with the lowest dust emissions."
The terminal is also certified by Green Marine, a voluntary environmental certification program for the North American marine industry that addresses key environmental issues through 14 performance indicators. G3 Terminal Vancouver is also part of the Port of Vancouver's Climate Smart program in which businesses measure their greenhouse gas emissions and identify ways to reduce them.
G3 has more than 600 employees at facilities across Canada. The company's head office is in Winnipeg.
Experience a better way to sell grain today.